100 Glenns Creek Road
Frankfort, KY 40601
502- 564-7647
Monday – Friday 8:00am – 4:30pm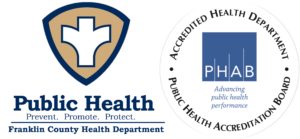 Our Vaccine Philosophy
Franklin County Health Department believes that all children should receive the recommended vaccines according to the guidelines provided by the AAP and the CDC. Vaccines are safe and effective in preventing diseases and health complications in children and young adults. Regular vaccinations help children ward off infections, and are administered as one of the safest and best methods of disease prevention.
We are happy to discuss your concerns about vaccines at your child's next visit.
Immunization Guidelines
Pediatric & Adolescent Associates follows the immunization guidelines recommended by the American Academy of Pediatrics (AAP). For information about these vaccines and the diseases they protect against, please visit American Academy of Pediatrics Health Initiatives: Immunization  

For detailed informational sheets published by the Centers for Disease Control (CDC) please visit  www.cdc.gov/vaccines/pubs/vis/      
Additional Vaccine Information

You can find out which vaccines might be right for you by taking CDC's adult vaccine quiz. 
For more information on vaccines, read Six Things You Need to Know about Vaccines or visit CDC's Vaccines website.
Staying Updated on Vaccinations on College Campus – Guide to staying up-to-date with you vaccines while in college

Persons with disabilities who require alternative means of communication for program information (e.g. Braille, large print, audiotape, American Sign Language, deaf, hard of hearing or have speech disabilities, etc.), should contact the Franklin County Health Department.  Additionally, program information may be made available in languages other than English.
The Franklin County Health Department is an EEO/AA/Title VI/Title IX/Section 504/ADA/ADEA institution in the provision of its education and employment programs and services. All qualified applicants will receive equal consideration for employment without regard to race, color, national origin, religion, sex, pregnancy, marital status, sexual orientation, gender identity, age, physical or mental disability, genetic information, veteran status, and parental status.   
Franklin County Health Department - HIPPA Privacy and Disclosure Statement
If you have questions or comments about services, providing feedback, website content, website layout, reporting broken links please contact the webmaster.